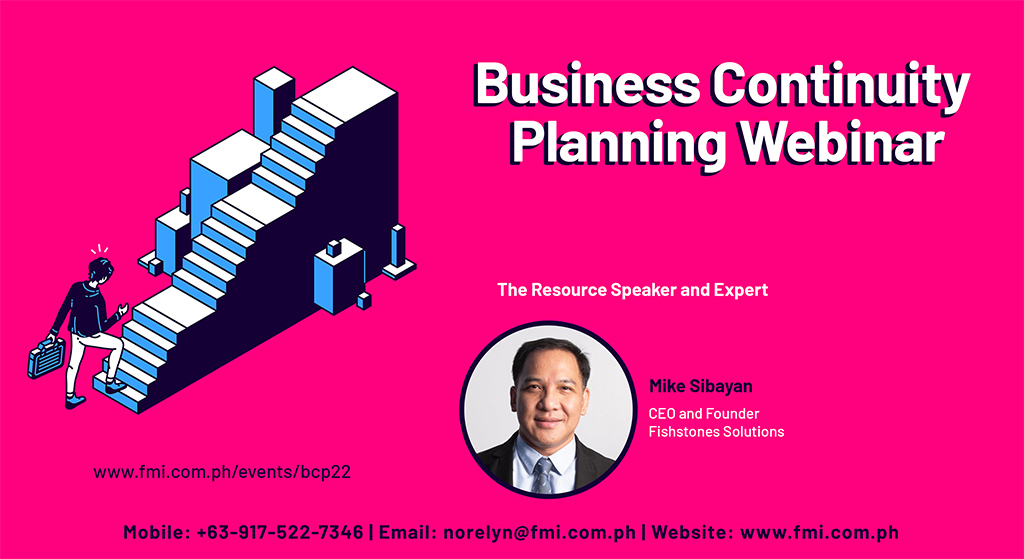 Business Continuity Planning (BCP) Webinar 2022

via vid-on-demand

Learn More: https://fmi.com.ph/vid-on-demand/BCP

Introduction

In these pandemic times, crisis situation occured in business. The need to know how to implement business continuity plan is a must for business owners, managers and stakeholders.

Your company's future depends on people, processes and technology. Being able to handle any incident effectively can have a positive effect on company's reputation and market value, and it can increase customer confidence.

'Organizations must understand the processes within the business and the impact of the loss of these processes over time. These losses can be financial, legal, reputational and regulatory. Build recovery strategy around the allowable downtime for these processes...' Lorraine O'Donnell, Global Head of Business Continuity, Experian.

Whether you operate a small business or large corporation, you strive to remain competitive. It is vital to retain current customers while increasing your customer base.

Business continuity is an organization's ability to ensure operations and core business functions are not severely impacted by crisis situations.

This webinar is focused on how to create business continuity plan given the challenges faced by companies. Cases will be discussed as part of scenario analysis and assessment.

Key Webinar Topics

1. Business Continuity Planning

1. Business Continuity Planning

1.1 Concept/Framework/Significance

2. Key Components of Business Continue Plan (BCP)
3. Strategic Steps to Develop BCP

3.1 Identify the scope of the plan
3.2 Identify key business areas
3.3 Identify critical functions.
3.4 Identify dependencies between various
business areas and functions
3.5 Determine acceptable downtime for each critical function
3.6 Create a plan to maintain operations

4. BCP Champions, Tasks and Responsibilities
5. Recovery Plan vs. Business Continuity Plan
6. Case Studies Discussion

Who Should Attend

CEOs, General Managers, Executive and Managing Directors, Businessmen, Entrepreneurs, Business Analysts,
Process Analysts, Risk Managers, Business Development Managers, Process Owners, Owners of SMEs, Start-ups, Consultants, Academe and those involved in business.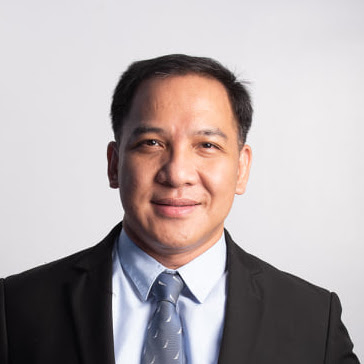 Mike Sibayan

CEO and Founder
Fishstone Solutions
Mike is the Chief Executive Officer and Founder of Fishstone Solutions. Mike is an experienced corporate executive and management consultant with more than 20 years of experience in the field of strategic and corporate planning, continuous improvement, project management, risk management, organizational development, training & development, and operations management.
Mike is a Certified Management Consultant under the Institute of Certified Management Consultants of the Philippines, a Master Project Manager (MPM) under the American Academy of Project Management, a Six Sigma Blackbelt and a certified training professional.
A known speaker/resource speaker on topics, such as, risk management, project management, business continuity planning, operational excellence and process improvement.

He is a graduate of the De La Salles University with a BS degree in Industrial Engineering with Minor in Mechanical Engineering.


Registration Fee

PHP 3,999 + VAT

Buy Video Now!

For Inquiries
 
Call: +632-8896-0639, 0917-522-7346
Email: norelyn@fmi.com.ph
Visit Website: https://www.fmi.com.ph/

Stay updated on all our learning events!
Follow the Fiera de Manila, Inc.
Facebook Page: https://www.facebook.com/fierademanila