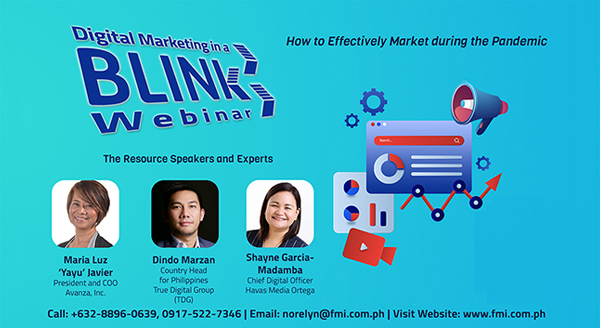 Digital Marketing in a BLINK Webinar

How to Effectively Market during the Pandemic

via vid-on-demand

Learn More: https://fmi.com.ph/vid-on-demand/BLINK

BLINK Webinar provides you with framework, thought leadership, industry best practices, tips, tactics and techniques to guide you in your strategy and your digital marketing program.

Learn what are effective ways to market in these challenging times of the pandemic.

Get the latest digital marketing updates and trends  from leading Industry Experts ....

The Digital Marketing in a BLINK Webinar is designed specifically for YOU: the digital marketing professional.

It is carefully crafted for someone just like YOU.

By attending BLINK, you will:

1. Develop the ability to analyze opportunities to create value for customers during this time of pandemic.
2. Keep up with important trends that matters and know exactly how to successfully implement the latest techniques.
3. Get the desired ROI every time you launch a campaign, create an ad, or start working on a new platform.
4. Develop confidence with every strategy and tactic you present to your boss, colleagues, or clients.

Key Webinar Topics

1. Creating High Converting Ads with User Generated Content

Know how to create compelling ads by collaboration with your target audience. What can be more effective messaging when marketers co-create narratives and stories with target audience and customers!

2. Integrate Performance and Brand Marketing to Effectively Market during the Pandemic

There is no better time to understand the value of brand marketing than today. In crisis times, brands are carefully positioning themselves to take advantage of opportunities in the horizon. Amidst financial uncertainty and limited resources, CEOs and CFOs look for direct links between marketing spend and specific KPIs of business outcomes.

Brand building program must result to specific marketing performance.
Learn how to integrate performance and brand marketing.

3. Three Customer Experience (CX) Trends for 2021 that Marketers Should Know

Remarkable Customer Experiences (CX) showed its importance during the pandemic when marketers are struggling to connect with customers for sales and conversions.

CX teams want everyone to understand and prove the return on investment of CX programs. To connect the dots, combine CX and business/financial data, analyze the relationships between the two.

Learn the three (3) CX trends for 2021 that will help to grow, scale and sustain your sales and marketing during the pandemic. This is must for marketers!

Who Should Attend

Retail Entrepreneurs, Franchise Business Owners, E-Commerce Merchants, Start-ups, CMOs, Brand Marketers, Social Media Marketers, Solopreneurs, Network Marketers, Corporate Marketers, Digital Directors, Content Providers, Digital Marketing Service Providers, Suppliers, Academe and those involved in digital marketing, E-Comerce, advertising who want to sell, market, and network with fellow marketers.



Registration Fee. Buy Now!

PHP 3,999 + VAT

Register Today! Download Now!

'Reviews – What They Say About Previous BLINK Program'…

1. The speakers were very impressive, congratulations on successful BLINK program.
- Lia Andrea Ramos, Glamour Box, Inc.

2. Highly recommended! The topics curation and selection of speakers was excellent!
Congratulations and looking forward to be in the BLINK Seminar next year!
– Tracy Aquino, Republiq Group of Companies

3. My first time to attend this. You have good topics & world-class speakers. I have learned a lot of insights. You should consider offering it International.
 – Kevin Hartigan-Go, Philippine Airlines (PAL)

4. Very effective in gaining knowledge about different aspects of digital marketing.
– Beatrice Rei T. Villanueva, Ginebra San Miguel, Inc.

5. As my first BLINK Seminar, I am glad the talks featured information about digital that are easy to understand for beginners.
– Sarena Guiang, Widescope Advertising Agency

6. Have learned a lot as our company is quite new to this. This will surely not be the first time we'll send representative for training.
– Gina C. Vizconde, Concepts In Action, Inc.

For inquiries:

Call: +632- 8896-0639, 0917-522-7346
Email: norelyn@fmi.com.ph
Visit Website: https://www.fmi.com.ph/

Stay updated on all our learning events!
Follow the Fiera de Manila, Inc.
Facebook Page: https://www.facebook.com/fierademanila