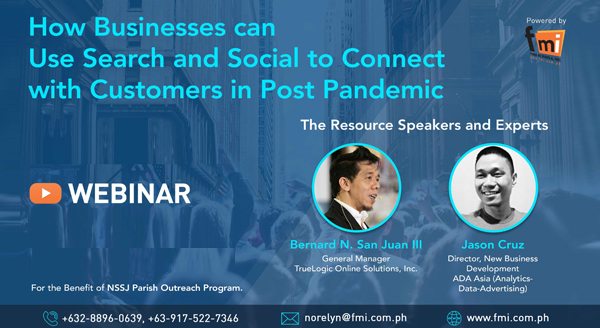 How Businesses can Use Search and Social
to Connect with Customers in Post Pandemic

via vid-on demand

Learn More: https://fmi.com.ph/vid-on-demand/SS

Key Webinar Topics

1. How do businesses implement their Search strategies to connect with customers?

2. How do businesses use Social media to effectively connect with customers?

Q&A follows after the presentations.

Who Should Attend

Retail Entrepreneurs, Franchise Business Owners, E-Commerce Merchants, Start-ups, CMOs, Brand Marketers, Social Media Marketers, Solopreneurs, Network Marketers, Corporate Marketers, Digital Directors, Content Providers, Digital Marketing Service Providers, Suppliers, Academe and those involved in digital marketing, E-Comerce, advertising who want to sell, market, and network with fellow marketers.