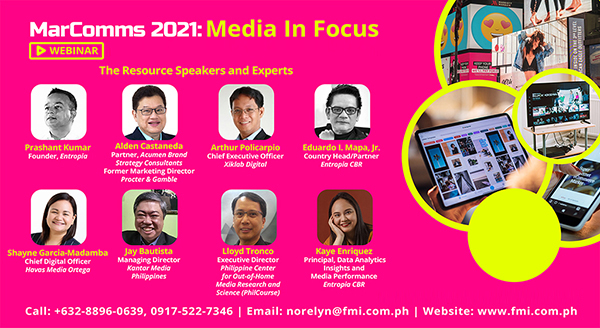 Introduction
The 2020 pandemic has caught us unprepared and exposed our vulnerabilities. But as we look forward to 2021, we would like to enter next year with a mindset that look at a window of opportunities to shape, recover and bounce back from this year's setback so we can determine the future state of media and communications landscape in the Philippines and in global arena.

The stakeholders in our industry has to come together and assist each other to bounce back from the unparalleled challenges we have been through in 2020. Let us start preparing our programs and initiatives for 2021!

What are the opportunities emerging in the landscape of traditional media (radio, TV and print),
digital out-of-home advertising, digital, mobile and E-Commerce?  Check out ideas for north stars.

Key Webinar Topics

1. The Changing Landscape of Marketing Communications in
Today's Pandemic and Beyond

Key Areas to Focus

- focus on the shift on consumer behaviour, lifestyle, media consumption, etc.
- trending consumer habits and preferences
- dominant trends on per segment
- implications in business of marketing and advertising

2. PH Traditional Media After the Storm

Does TV still dominate the media consumption of Filipinos?
How are they coping with the new challenges in the New Normal?

- data presentation followed by panel discussion

3. Recovery Strategies for DOOH and OOH

- panel discussion on ideas on how DOOH and OOH jumpstart business for 2021

4. Digital, Mobile and E-Commerce
Champion Customer Engagement: The North Star

- digital transformation continues to dominate the agenda of businesses
- The Shift to E-Commerce for Survival
- Mobile-First and Mobile-Only: The Perfect Strategy to Move Forward

Who Should Attend

CMOs, Managing Directors, Advertising/Marketing Managers, Brand Managers, Category Managers, Product Managers, Corporate Communication Managers, Media Planner/Managers, Publishers, Advertising Suppliers, Entrepreneurs, Academics, Students, Government, and those involved in advertising and marketing.

Registration Fee. Buy Now!

PHP 3,999 + VAT

Register Today!

https://www.fmi.com.ph/vid-on-demand/marcomm

For inquiries:

Call: +632–896-0639, 0917-522-7346
Email: norelyn@fmi.com.ph
Visit website: https://www.fmi.com.ph