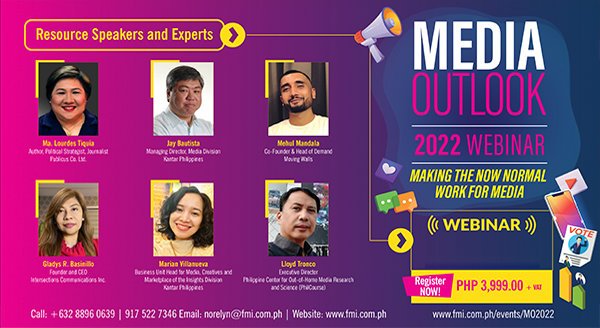 Learn More: https://www.fmi.com.ph/mo2022

Introduction

Making the Now Normal work for media - it's hybrid.

What is the redefined Philippine media landscape for 2022? How can we ensure that media continues to support successful outcomes where creativity and collaboration are key? How media platforms are coping or thriving? How each medium can help in successful
election campaigns happening in our country?

The revolutionary nature of the pandemic has accelerated the evolutionary process towards more remote working arrangement with technology facilitating the business process. Necessity has fueled innovation.

The pandemic also forced us to rethink our traditional working habits and to move towards a voluntary hybrid model. It made us to reassess traditional working patterns, so we now have an opportunity to build back better in diversifying diversification. Thus, resilience is a big part of the journey as media thrives in the 'Now Normal'.

Let's explore opportunities in the Philippine media landscape for 2022 and learn from insightful
and exciting conversations on the upcoming
PH national elections using various media.

Key Webinar Topics

1. The Philippines Media Landscape for 2022

Find out how the pandemic has reshaped the Philippine Media Landscape. Get a glimpse of how consumers and marketers view media touch points and media brands. Identify the right combination of media platforms for the coming elections.

2. Digital Advertising Trends and Channels

Learn about the digital advertising trends affecting the Philippines - how much is being spent; where is it being spent; and, who are the big spenders?

How to leverage more on digital channels to reach wider audience in the changing media consumption of Filipino consumers? How to effectively use social media in the changing times?

3. The Digital Outdoor Advertising and Out-of Home

How out-of-home and outdoor advertising have
become digital and relevant in the face of hybrid
model of media landscape?

4. Effective Media Strategy for PH Election Campaign

How political strategists and politicians use media
to their favor to win in the national elections?

Who Should Attend
CMOs, Managing Directors, Advertising/Marketing Managers, Brand Managers, Category Managers, Product Managers, Corporate Communication Managers, Media Planner/Managers, Political Strategists, Politicians, Publishers, Advertising Suppliers, Entrepreneurs, Academics, Students, Government, and those involved in media, advertising and marketing.
Registration Fee
PHP 3,999 + VAT
For Inquiries:
Call: +632–8896-0639, 0917-522-7346
Email: norelyn@fmi.com.ph
Visit website: https://www.fmi.com.ph

Stay updated on all our learning events!
Follow Fiera de Manila, Inc.
FaceBook Page: https://www.facebook.com/fierademanila