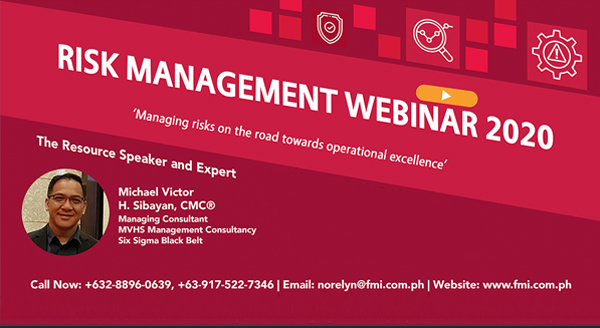 Risk Management Webinar
'Managing risks on the road towards operational excellence ...'
Learn More: 
https://fmi.com.ph/vid-on-demand/RM

Introduction
'Some 
risks
 that are thought to be unknown, are not unknown. With some foresight and critical thought, some 
risks
 that at first glance may seem unforeseen, can in fact be foreseen. Armed with the right set of tools, procedures, knowledge and insight, light can be shed on variables that lead to 
risk
, allowing us to 
manage
 them.'
- Daniel Wagner, CEO, Country 
Risk
 Solutions
Risk
Management
 is not just a process but a discipline that every organization needs to institutionalize. 
Risks
, although may or may not happen, 
Management
 should ensure that 
risk
management
 is included on key 
management
 and operational processes within the organization in order to minimize if not to eliminate its negative impact to the company's various initiatives.
Six Sigma is a proven methodology that leads to breakthrough performance of various companies. This seminar-workshop leverages on the methodology and tools used in Six Sigma in improving variation and defects that can be defined as operational 
risks
.
This webinar will discuss the application of Six Sigma Thinking and Tools in operations and project 
risk
management
 initiatives in support of the overall operational excellence activities of an organization. With the rapidly changing market shifts, organizations are under pressure to implement effective control measures. It is not easy to 
manage
 all of these uncertainties (
risks
) and react to the changing business dynamics to be more competitive in the market.
Key Webinar Topics
A. Defining 
Risk
 and 
Risk
Management
B. Overview of the 
Risk
Management
 Process
1. Establishing Context
2. Identifying 
Risks
3. Analyzing and Quantifying 
Risks
4. Integrating 
Risks
5. Assessing and Prioritizing 
Risks
6. Treating and Exploiting 
Risks
7. Monitoring and Reviewing
C. Six Sigma Tools and Concepts for 
Risk
Management
1. Variation-based 
Management
- Causes of Variation (Special and Common)
- Run Charts
- Control Charts
2. Process Flow Analysis
3. Failure Mode and Effect Analysis (FMEA)
Who Should Attend
CEOs, Presidents, General Managers, Managing Directors, Senior Level Officers and Managers, Lean Six Sigma Practitioners, Strategic Corporate Planners, Risk Managers, Finance Managers, Auditors, Process Owners and Analysts, Business Owners, Entrepreneurs, Department Heads, Division Managers in various industry sectors, and those who are involved in business excellence and continuous improvement within their organizations.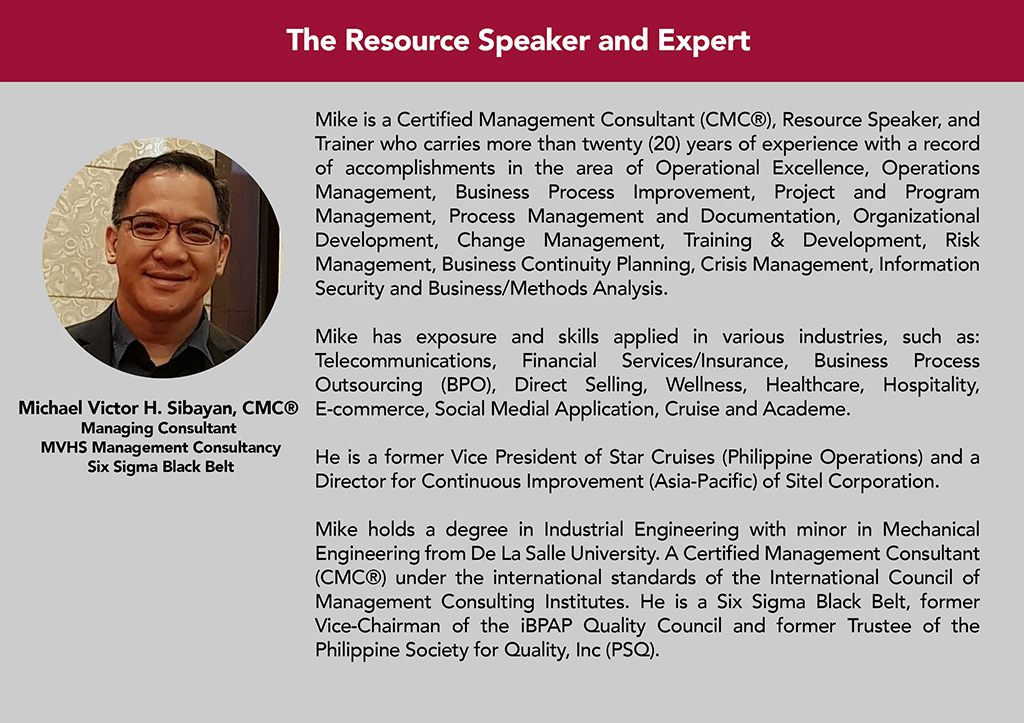 Registration Fee. Buy Now!

 PHP 3,999 + VAT

Register Today! https://fmi.com.ph/vid-on-demand/RM

For inquiries:

Call: +632-8896-0639, 0917-522-7346
Email: norelyn@fmi.com.ph
Visit Website: https://fmi.com.ph/

What They Say About the Program ...

1. Very informative, useful, inspiring.
- Pete Robledo, AMWSLAI

2. Mike is very knowledgeable on the topic as expected. He was able to share a lot of risk reduction plans/strategies.
- Carl Michael Francia, Crawford and Company Broadshire Philippines Inc.

3. A very enlightening kind of seminar that made me think that it seems okay but we have a lot of work to do to gain more customer.
- Rovelyn Tani, Crawford and Company Broadshire Philippines Inc.

4. It's good and a knowledgeable day.
- Rajaram Jayaraman, Brown and Burk Philippines, Inc.

5. It's very informative and a lot of topics to be understand.
- Almeda F. Penos, Bestloan Credit Corporation

6. Seminar is worth the money.
- Allan Aldrinne Leyva, Crawford and Company Broadshire Philippines Inc
 
Stay updated on all our learning events!
Follow the Fiera de Manila, Inc.
Facebook Page: https://www.facebook.com/fierademanila