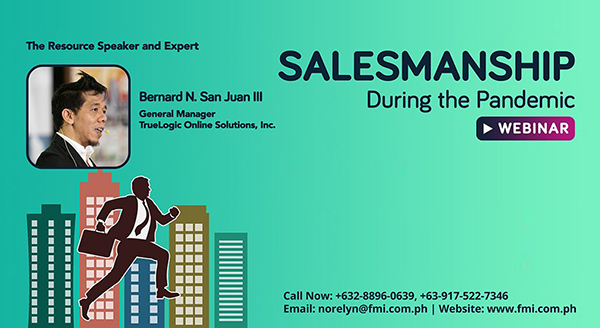 Salesmanship During the Pandemic Webinar
via vid-on-demand

Learn More: https://www.fmi.com.ph/vid-on-demand/salesmanship

Selling is a skill. Be the world's greatest salesman.

Every marketer wants to win customers and increase sales especially at this time of the pandemic.
 
You can be a prolific and effective salesman by learning and understanding customers – their needs, motivations, interests, thinking, behavior, and overall lifestyle ...

Know the selling process, strategies, creative approaches, tips and techniques on managing key accounts.

Learn what and how to prepare for sales pitches, deck presentations, and audience projections.

Get insights on how to do negotiation with customers, lead them to conversions and close deals.

Know how to win and keep customers and nurture customer engagement and relationships.

Get to know how to do realistic sales planning, budgeting and forecasting as part of company's strategic planning and revenue targets.

Key Webinar Topics

1. Understanding the Customer, the Customer Journey, Prospecting Customers
2. The Selling Process, Approach and Strategies
3. Preparing Your Sales Presentation and Pitches
4. Sales Negotiations and Techniques
5. How to Handle Customer Objections
6. Closing Sales and Deals
7. Winning and Keeping Customers - Managing Key Accounts
8. Nurturing Customer Engagement and Relationships
9. Sales Planning, Budgeting and Forecasting

Who Should Attend

Sales Managers, Customer Service Representatives and Agents, Customer Care Personnel, Business Development Managers, Product Managers, Brand Managers, Marketing Managers, Fund Raisers, Account Managers, Account Officers, Sales Executives, Sales Representatives, Front Liners and those who are involved in the business of selling/marketing products/services and servicing accounts.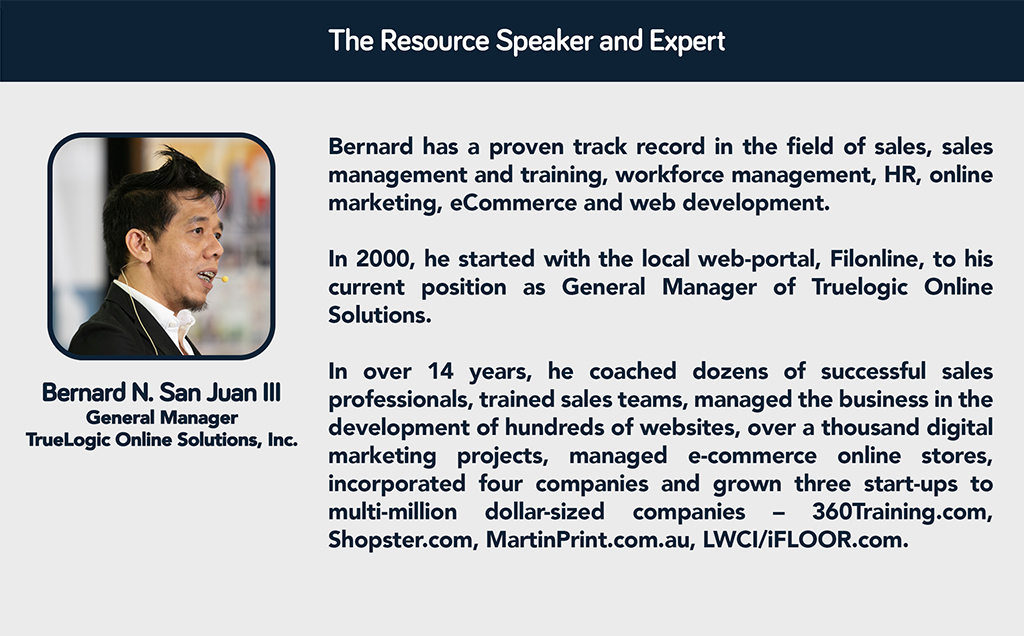 Registration Fee. Buy Now!
PHP 3,999 + VAT

Reviews – What They Say About The Program

1. He is very knowledgeable with the subject and very engaging.
- Sem John Flores, Sunjin Philippines Corp.

2. Topics are very timely and relevant to me.
- B.A. Martinez, Gigamare, Inc.

3. Exceeded my expectations. The payment was worth it.
– Bernadine Pabellan, AB Capital and Investment Corporation

4. It was a very fulfilling and informative day.
- Gennete Paccial, Promotexter Philippines, Inc.

5. I learned a lot from Bernard. I needed that refresher and new insights.
- Niño Divino Tuason, Vantage Point Print House, Inc.

6. Materials are excellent, easy to understand, speaker is great.
- Gemma Iyas, Hello Dolly Manufacturing

7. Quite knowledgeable on a lot of things other than sales.
- Jemaru Mercado, Landbank of the Philippines

8. The speaker was excellent. I have learned a lot.
- Rudelyn Par, Golden Touch Imaging
 
Register Today!
 
https://www.fmi.com.ph/vid-on-demand/salesmanship

For inquiries:

Call: +632-8896-0639, 0917-522-7346
Email: norelyn@fmi.com.ph
Visit Website: www.fmi.com.ph

Stay updated on all our learning events!
Follow the Fiera de Manila, Inc.
Facebook Page: https://www.facebook.com/fierademanila