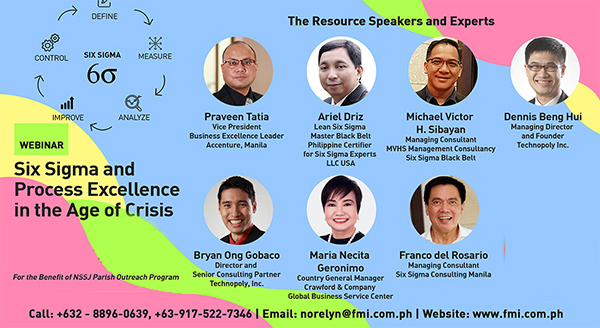 Six Sigma and Process Excellence in the Age of Crisis Webinar
via vid-on-demand

Learn More: https://www.fmi.com.ph/vid-on-demand/SIXSIGMA

How businesses can use Six Sigma and Process Excellence tools to survive this crisis?

To navigate current market shifts and changing customer preferences, businesses take look at process re-engineering, removal of wastes, and focus more on giving value to customers within limited resources.

Where is your company at this time of crisis and pivotal transformation?

Six Sigma is rooted in process excellence and improvement as a strategy to business transformation.

This webinar will discuss Six Sigma and Process Excellence tools to guide businesses in re-engineering processes and value propositions that result to business sustainability, relevance and growth.

Key Webinar Topics

Part 1:

1. Planning company's transformation initiatives from strategy to execution: A Practical Approach
2. An Agile approach to enable business transformation and shifts
3. Flattening the Curve Approach: The Six Sigma Perspective
4. Lean and Mean: Ways to Create More Value to Customers

Part 2:

1. Incorporating Agile and Design Thinking in CI Initiatives
2. Make Risk Management a part of your business strategy
3. Breaking down silos and Creating CI Culture Through Root Cause Analysis
4. Five (5) Leadership Skills to Drive Change in the Organization


Who Should Attend

CEOs, Presidents, Managing Directors, General Managers, Business Owners, Senior Level Managers, Process Owners/Analysts, Lean and Six Sigma Practitioners, Strategic Planners, Corporate Planning Executives, Project Managers, Customer Experience (CX) Officers, Innovation Champions, Team Leaders, IT Managers, Growth Officers, Industrial Engineers, Entrepreneurs, and those involved in continuous improvement and operational excellence programs in their organizations.


Registration Fee. Buy Now!
PHP 6,999 + VAT
For inquiries:
Call: +632-8896-0639, 0917-522-7346
Email: norelyn@fmi.com.ph, www.fmi.com.ph

Reviews of Past Six Sigma and Process Improvement Conference
1. Good experience from ground zero knowledge about Six Sigma knowledge.
- Zander Lino, Gemphil Technologies, Inc.
2. Great to key in Innovation and Transformation – a global trend that's is significant to learn more about how global companies are innovating.
- Ronald Salazar, Premium De Luxe Design Vietnam
3. Great presentation for change management. Great story telling!
- Rowena R. Navarro, Asia Brewery Inc.
4. Today's conference I may say is a success.
The speakers are very engaging. Wonderful experience.
- Reggie Gazmen, Incontact
5. Excellent!
- Vida Hazel Nodque, Philippine Airlines, Inc.
6. Very insightful, relevant, and helpful.
- Jerome Tagaro, Accenture
7. Engaging speakers and relevant and interesting topics.
- Tracy Ellen Dy, Dole Philippines, Inc.
8. The conference is very good it gives me a very informative information.
- Mark John Angelo P. Maclang, Hoc Po Feeds Corporation

Stay updated on all our learning events!
Follow the Fiera de Manila, Inc.
Facebook Page: https://www.facebook.com/fierademanila