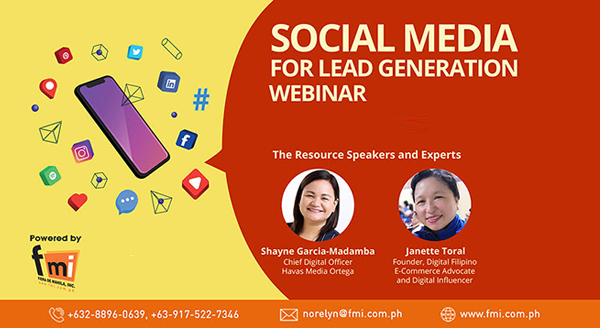 Social Media for Lead Generation Webinar
via vid-on-demand
Learn More:
https://fmi.com.ph/vid-on-demand/SM
Introduction
Social
media
 landscape is changing. 
Social
media
 is the favourite waterhole of the millennials and GenZs. This is where they spend the daily average six hours of their computing lifestyle.
As marketers, how can businesses leverage 
social
media
 for 
lead
generation
 and brand building?
Social
media
 marketing is a low cost and high ROI platform. Marketers are expected to spend more time in 
social
media
 and utilizing the platforms for promotion.
Marketers promote stories on Facebook, Twitter, Instagram, YouTube and LinkedIn News Feed; and concentrate more on creating quality content and videos that engages users.
How do marketers make campaigns in 
social
media
?
How do marketers leverage 
social
 listening?
How marketers listen to VoC amidst the noise and clutter?
Social
 listening tools help track, analyze, and leverage 
social
media
 conversations more effectively.
Growing and scaling your brand is easier now yet trickier than ever. Hence, the need to study the changes and dynamics of these tools and platforms used in customer engagement and 
lead
generation
.
This webinar will guide marketers on the use of 
social
media
 primarily for 
lead
generation
. It discusses the role of 
social
media
 within the framework of customer journey, steps to jump start 
social
media
 campaign for paid campaigns, how to capture leads, content development and marketing, 
social
 listening and tools, 
social
media
 analytics and intelligence, evaluate ROIs and recommendations, and case studies discussion.
Key Webinar Topics1. Process Guide in Social Media Campaign for Paid Campaigns
 – steps to jumpstart paid campaigns to include targeting and segmenting audience (demographics,
geo-location, psychographics and some updates).
2. Social Listening
 – learn the importance of 
social
 listening for meaningful insights, understanding customers and markets, and identification of trends and sentiments in the conversations.
3. Social Media Analytics and Intelligence
 – track signals in noises and conversations to establish dominant trends
as support to data-informed decision-making. A strategic tool to set metrics, KPIs and evaluate ROIs of campaign.
4. Content Development and Marketing
 – use of storytelling in creating content, stunning visuals and videos in 
social
 posts and conversations.
5. Case Studies
 – a discussion of successful 
social
media
 campaigns and why it works.
Who Should Attend
CMOs, Brand Marketers, Category Managers, Advertising Managers, Digital Marketers, Ad Agencies, Publishers, Media, Telcos, Content Providers, Bloggers, E-Commerce Entrepreneurs, Suppliers, Government, Academe, Digital Marketing Service Providers and those involved in digital marketing and advertising campaigns.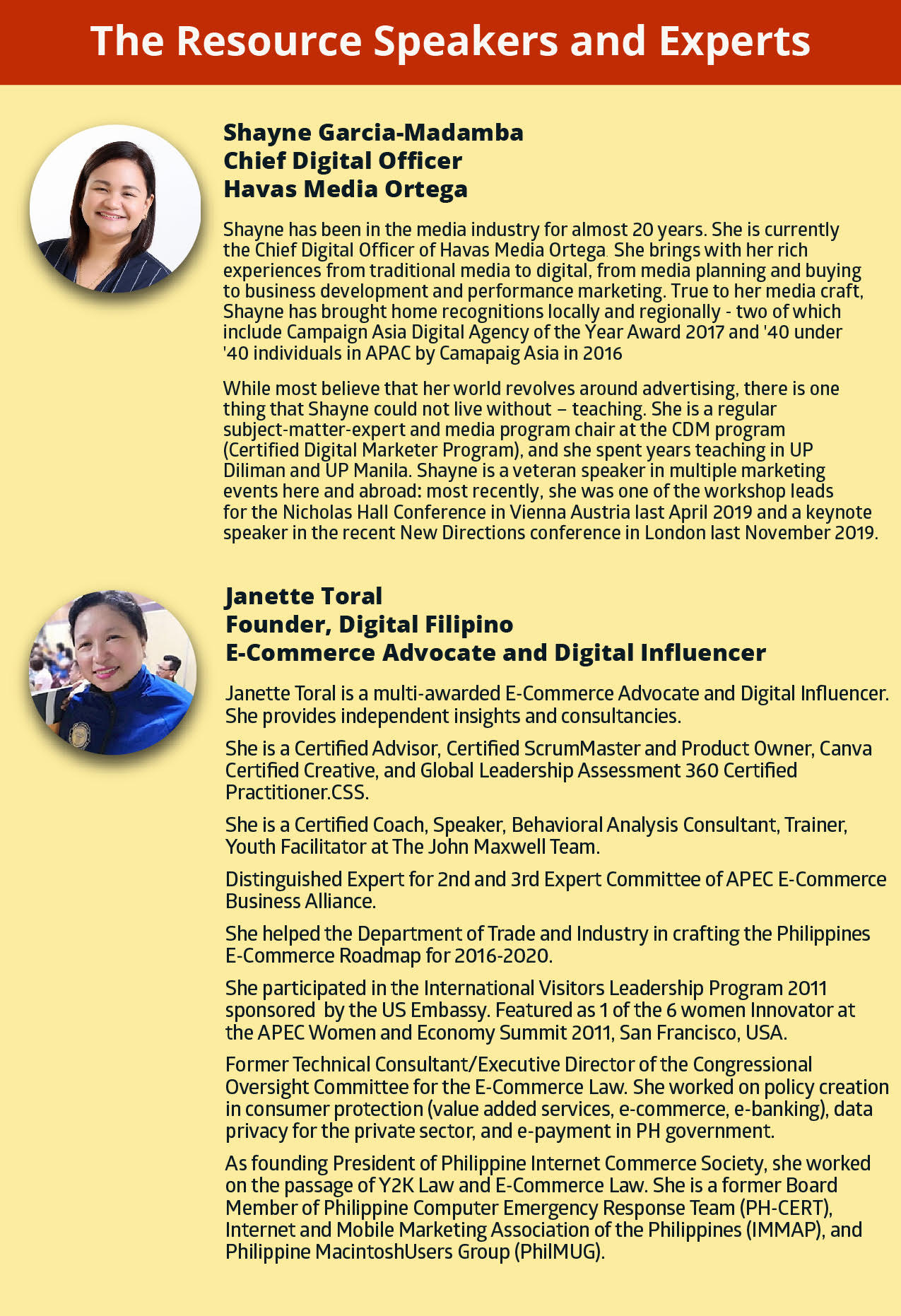 Registration Fee. Buy Now!
PHP 3,999 + VAT

Reviews – What they say about the program ….

1. Very organized and Informative workshop.
– Cherry Ann Co, Bridges Travel and Tours.

2. I learned a lot of new things about social media that will help me improve our company's website. I loved that all of the speakers are knowledgeable.
– Ysabela Espinas, Exatech

3. In-depth seminar on social media.
– Ann Bernadette M. Callanta, Inquirer Interactive

4. All the speakers were able to enlighten me about digital campaign.
– Arianne S. Tomacruz, Toolbox Creatives Designs, Inc.

5. Obtaining new learnings that we may apply on what we are doing in our company.
– Paulo Juan, Malayan Insurance.

6. Great Topic Outline. Speakers were very knowledgeable with the topic.
– Tricia Palola, MACARE Medicals

7. It was indeed helpful in making your business grow and diverse in a strategic digital marketing aspect.
– Alexandra Nicole Orgasan, DS Prats Group of Companies

8. The new knowledge by the speakers. Those are the ideas that can't be searchable and speakers experience helps a lot.
– Queen Vinluan, MBHMI

9. I love most the techniques/templated applications we can readily use for our own social media marketing campaigns.
– Asle Carey A. Ciscar, ADA Manufacturing Corporation

For inquiries:

Call: +632-8896-0639, 0917-522-7346
Email: norelyn@fmi.com.ph
Visit Website: www.fmi.com.ph