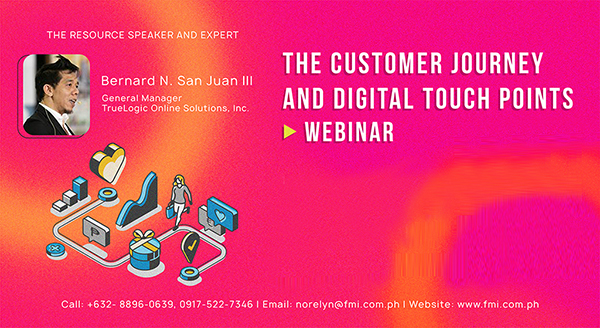 The Customer Journey and
Digital Touch Points Webinar

via vid-on-demand

Learn More: https://www.fmi.com.ph/vod-on-demand/CJ

Introduction

Customer is King!

Companies that put the customer at the heart of their business are more profitable than their competitors. Their biggest growth factor is - they focus on a customer journey strategy.

The customer journey follows the complete lifecycle from
awareness to loyalty, allowing marketers to match communication strategies with customer expectations at each stage of the journey.

A customer journey is the complete experience a customer has with an organization.  It encompasses all customer interactions across all channels, devices and touch points throughout every stage of the customer lifecycle – from awareness to loyalty.

The process requires mapping the journey, their touch points and yours, to identify gaps in communication.

This webinar will provide marketers with a framework to map the customer journey and identify digital touch points.

Webinar Key Topics

1. The Value Proposition

2. Your Brand Persona

2.1 Your Brand Archetype, Value Proposition, Your Messaging House (who you are and who you are not),
Your brand (core, attributed, aspirational)

3. Customer Personas

3.1 Building your top 3 customer personas
3.2 What is their: Problem, Friction, Opportunity

4. The Sales Funnel

5. Pre-Sales Digital Touch Points: Awareness to Consideration

5.1 Websites
5.2 SEO
5.3 eDM (E-Mail Marketing)
5.4 Top of Funnel ads
Google Display Ads
Facebook Ads
5.5 Multi-channel - Digital and Traditional Mix

6. Customer Journey Mapping

6.1 Stages of the Journey
6.2 The Happy Path
6.3 Customer Friction (Solving Customer Friction)

Who Should Attend

CMOs, Brand Marketers, Social Media Marketers,
Corporate Marketers, Digital Directors, Content Providers,
Digital Marketing Service Providers, IT personnel, Department/Division Heads, those involved in digital marketing and digital transformation journey of the company.





Registration Fee. Buy Now!

PHP 4,999 + VAT

Register Today!

https://www.fmi.com.ph/vid-on-demand/CJ

For inquiries:

Call: +632- 8896-0639, 0917-522-7346
Email: norelyn@fmi.com.ph
Visit Website: https://www.fmi.com.ph/