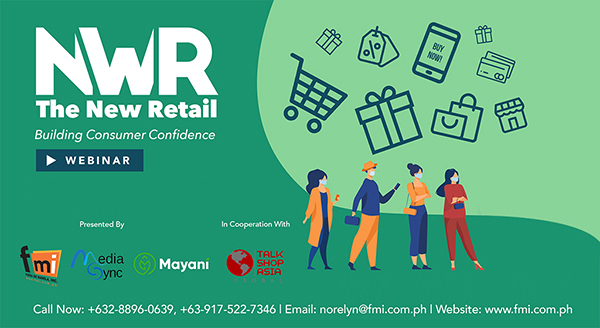 The New Retail Webinar
'Building Consumer Confidence'

via vid-on-demand

Learn More: https://www.fmi.com.ph/vid-on-demand/NWR

Introduction

Better 2021 Expected

Companies and consumers are counting on better days for 2021 banking on the corona virus vaccine and sustained re-opening of the economy.

Consumer confidence for 2021 is at a positive 25.5%, better than the previous 19.9% as Filipinos expect their lives to return to normal with more jobs, higher incomes, and stable prices of goods.

Businesses are optimistic, but tempered as they see the ill effects of Covid-19 persisting.

Philippine economic managers believe the country can return to its growth path and see output rise by 6.5-7.5 percent. BSP Governor Benjamin Diokno said growth cannot 'rebound significantly' until confidence is restored.

The revival of consumer confidence is key to economic recovery, as Filipinos need to earn more and feel safe before they head out to shop, dine, and travel again amidst the pandemic.

This webinar will focus its discussions on how businesses, brands and retail can help in restoring consumer confidence as they build momentum for recovery, rebound and sustainability.

How will businesses and brands strategize their path to recovery and help build consumer confidence?

Listen and learn from Experts, Business Leaders, and Economists on their outlook and perspectives for 2021, innovative ideas for business growth and sustainability, and opportunities/challenges for 2021 as market shifts continue to  persist in our VUCA world.

Key Webinar Topics

1. The Economic Outlook for 2021: Opportunities and Challenges Ahead for Filipinos

 An economic briefing that discusses opportunities and challenges for businesses and brands in 2021. Businesses can leverage on growth areas where opportunities can drive sustainability and innovation.

2. Retail Experiences in the New Normal: Dine, Shop and Experience Personal Safety 

Bringing consumers to remarkable retail experiences that provide safety health measures and secured spaces conducive to dining, shopping, meeting and pampering.

3. Brand Relevance and Strategies in the VUCA World

Unique ideas and approaches for businesses and brands to pursue their relevance and strategies for 2021 amidst market uncertainties.

Who Should Attend

Retailers, Business Owners, Entrepreneurs, CMOs, Managing Directors, Advertising/Marketing Managers, Brand Managers, Category Managers, Product Managers, Corporate Communication Managers, Media Planner/Managers, Publishers, Advertising Suppliers, Academics, Students, Government, and those involved in business, entrepreneurship, marketing and retailing.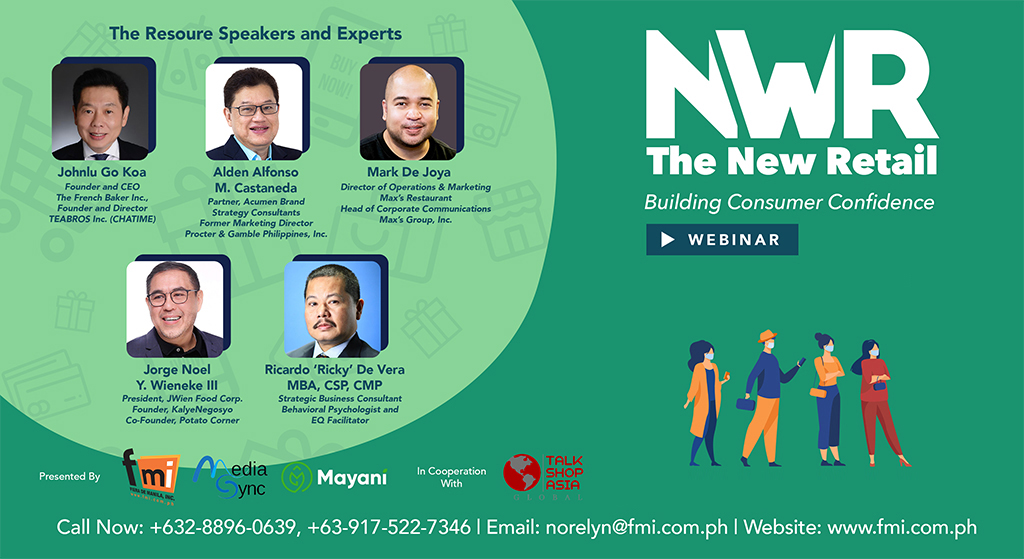 Registration Fee. Buy Now!

PHP 3,999 + VAT

Register Today!

https://www.fmi.com.ph/vid-on-demand/NWR

For inquiries:

Call: +632-8896-0639, +63-917-522-7346
Email: norelyn@fmi.com.ph
Visit Website: https://www.fmi.com.ph