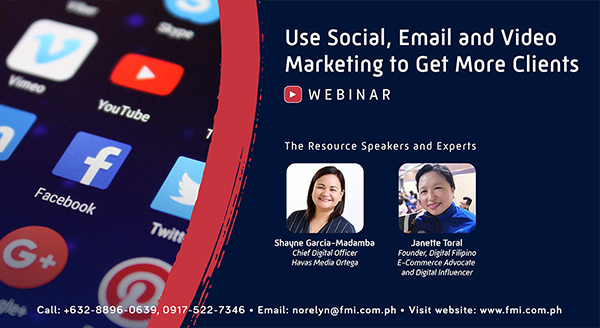 Use Social, Email and Video Marketing to Get More Clients Webinar
via vid-on-demand
Learn More:
https://fmi.com.ph/vid-on-demand/SEV
Introduction
With the pandemic still in the horizon, how can marketers, entrepreneurs and businessmen stay connected with their customers and continue doing business?
The pivot is: Go Digital!
Learn these digital tools and implement your digital 
marketing
 strategies. 
Key Webinar Topics1. Social and Email Marketing
How do businesses 
use
social
 and 
email
marketing
 to effectively 
get
more
clients
?
Develop an effective 
email
 strategy
- Grow and segment your mailing list,
clear messaging and CTAs (Call To Action),
regular schedule, visually-driven
Use
social
 media properly
- select 2 channels, visibility, branding,
messaging, schedule of posts, conversion
2. Video Marketing
Why businesses are using videos to connect with
customers? What are the effective techniques in 
video
marketing
?
Q&A follows after the presentations.
Who Should Attend
CMOs, Brand Marketers, Business Owners, Category Managers, Advertising Managers, Digital Directors, Digital Agencies, Publishers, Retailers, Media, Content Providers, Bloggers, E-Commerce Entrepreneurs, Suppliers, Government, Academe, Digital 
Marketing
 Service Providers and those involved in digital 
marketing
.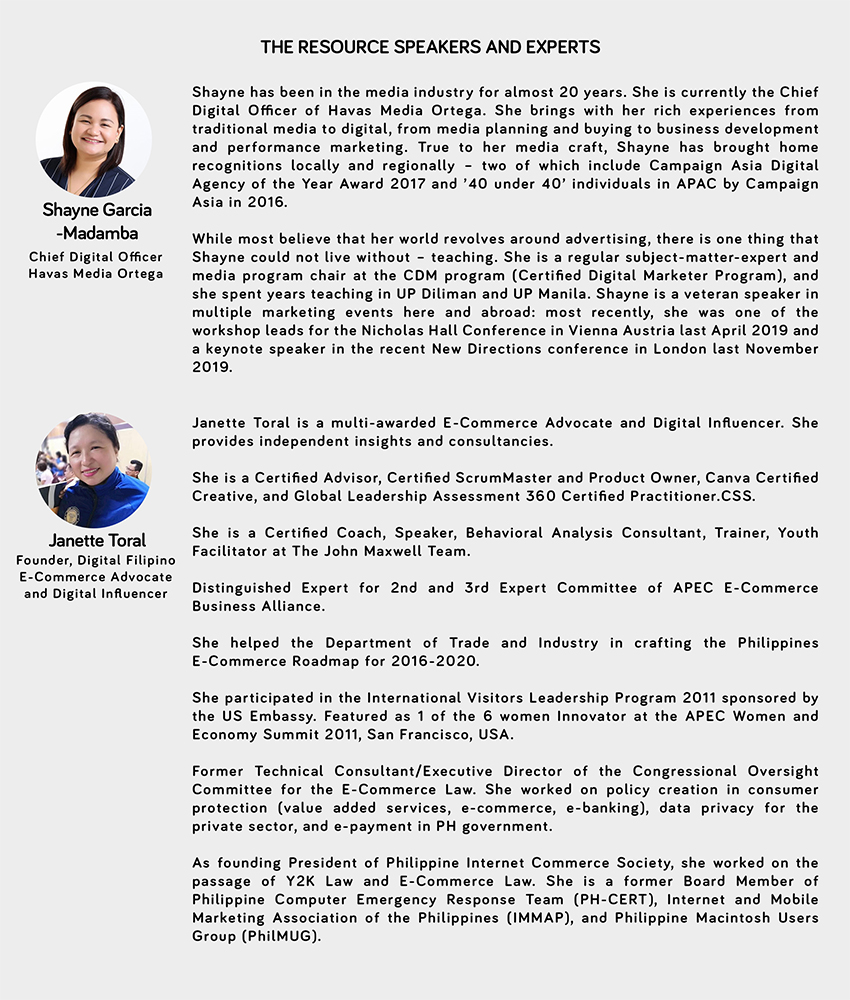 Registration Fee. Buy Now!
PHP 3,999 +VAT
Register Today!
https://fmi.com.ph/vid-on-demand/SEV
For inquiries:
Call: +632-8896-0639, 0917-522-7346
Emil: 
norelyn@fmi.com.ph
Visit website: 
www.fmi.com.ph
Reviews – What They Say About Previous Program …
1. The speakers were very impressive, congratulations on successful program.
- Lia Andrea Ramos, Glamour Box, Inc.
2. Highly recommended! The topics curation and
selection of speakers was excellent!
Congratulations and looking forward to be in the next seminar!
– Tracy Aquino, Republiq Group of Companies
3. Very effective in gaining knowledge about different aspects of digital 
marketing
.
– Beatrice Rei T. Villanueva, Ginebra San Miguel, Inc.
4. As my first digital seminar, I am glad the talks featured information about digital that are easy to understand for beginners.
– Sarena Guiang, Widescope Advertising Agency
5. Have learned a lot as our company is quite new to this. This will surely not be the first time we'll send representative for training.
– Gina C. Vizconde, Concepts In Action, Inc.
Stay updated on all our learning events!
Follow the Fiera de Manila, Inc.
Facebook Page:
https://www.facebook.com/fierademanila