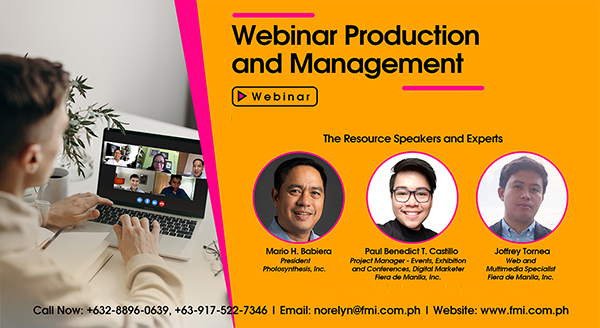 Webinar Production and Management Webinar

via vid-on-demand

Learn More: https://fmi.com.ph/vid-on-demand/WPM

Introduction

Are your teams working remotely during this time of the pandemic? Are you connecting with your customers remotely?

While these times are challenging, there are innovative ways to continue doing business and connect with customers and partners remotely.

Zoom is a top tool and widely used virtual platform in engaging and meeting prospects, customers and team members.

Learn step-by-step guide, tips and techniques on how to use Zoom meetings and webinars for your business.

Case study demonstration or hands-on presentation will be included in the discussion.

Key Webinar Topics

1. Planning the Event/Meeting Details
2. Zoom meetings vs. webinars
3. Zoom webinar features
4. How to host Zoom webinars
(Before, During and After the Event/Meeting)
5. Webinar Lighting Tips and Techniques
6. Case studies and demonstration

Who Should Attend

CEOs, President, Managing Directors, General Managers, Business Owners, Entrepreneurs, Senior Level Executives, CMOs, Brand Marketers, Category Managers, Advertising Managers, Digital Marketers, Business Development Managers, Media Managers, Content Providers, Bloggers, E-Commerce Entrepreneurs, Digital Marketing Service Providers, Office Managers and Staff, Government, Academe, Students, and those who are in need of digital tools to conduct business/meetings remotely.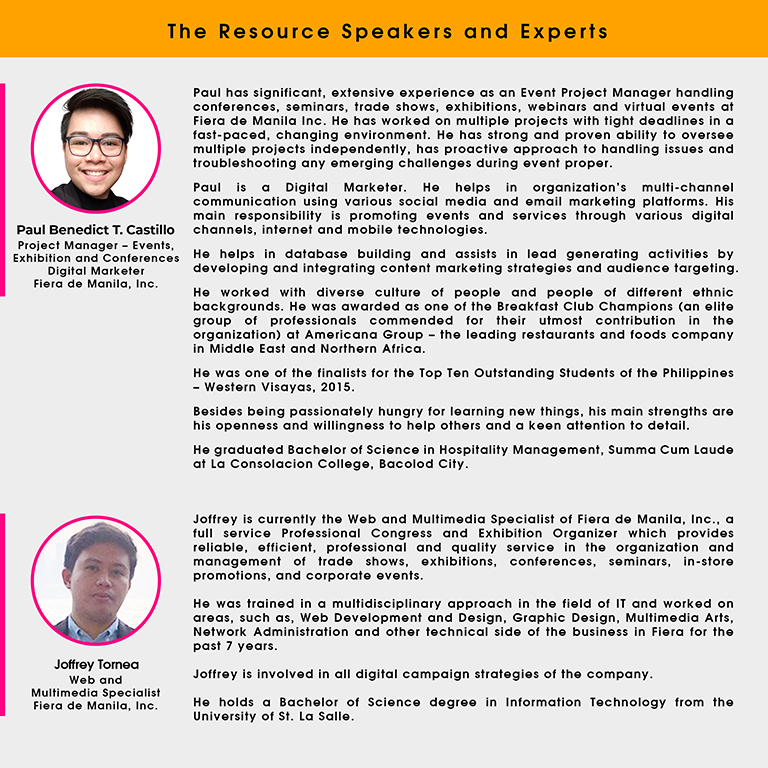 Registration Fee. Buy Now!
PHP 3,999 + VAT 

Register Today! Download Now!

https://fmi.com.ph/vid-on-demand/WPM

For Inquiries:

Call: +632-8896-0639, 0917-522-7346
Email: norelyn@fmi.com.ph
Visit Website: https://www.fmi.com.ph