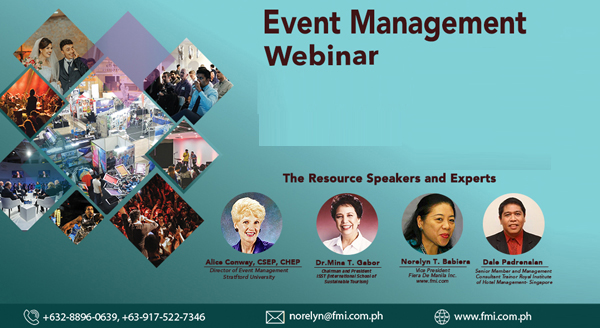 Event Management Webinar

via vid-on-demand

Learn More: https://fmi.com.ph/vid-on-demand/EM

Introduction

Event Experts transform events into remarkable experiences. They design event details and activities to be memorable for attendees and participants through careful strategic
planning and execution.

Events are overarching strategic marketing tools used by brands and companies to communicate and create value propositions to customers. It is used to build brands
through activation, seminars and conferences, trade exhibitions, display merchandising and selling.

At the end of the webinar, the participants will be able to understand the framework of events in its life cycle/phases;
the strategic role of event organizer and manager in
producing and managing successful events.

Learn the ideation process in conceptualizing and implementing event themes, merchandising and styling.

Know how to leverage technologies in doing event management and campaigns.

Understand financial management, budgeting, fund raising, food catering and banqueting, and evaluation of events.

Be a part of this webinar and learn best practices in event management!

Key Webinar Topics

1. The Life Cycle of Events
– Discussion on the 5 phases of event management

2. Event Marketing and Promotions
– Campaign for participation (delegates, exhibitors, seminar attendees, VIPs)
– Marketing and Promotion Mix
- Corporate Sponsorships

3. Event Financial Management
– Discussion on Event Profit & Loss, Break-Even Point,
Profit Ratios

4. Event Technology
– Leveraging technologies for event management
(website, registration, promotion campaign, ticketing,
special effects).

5. Event Creatives and Merchandising
– Event theme, creative storytelling, and merchandising for distinct character and style

6. Event Food & Beverage Requirements and Banqueting
– Discussion on menus, banqueting, waitering, physical set-up, room assignments

7. Event Evaluation
– Discussion on feedback forms, survey questionnaires, data collection

8. Event Case Presentation
– Participants to present an event project

Who Should Attend

Event Professionals/Managers, Corporate Communication Managers, Brand Managers, PR Professionals, Trade Show/Exhibition Organizers/Managers, MICE Planners, Event Project Managers, Marketing/Advertising Managers/Professionals, HR Managers, Business Owners/Entrepreneurs, Academe, Students and those involved in event planning/organizing/managing; or, those shifting careers to event management.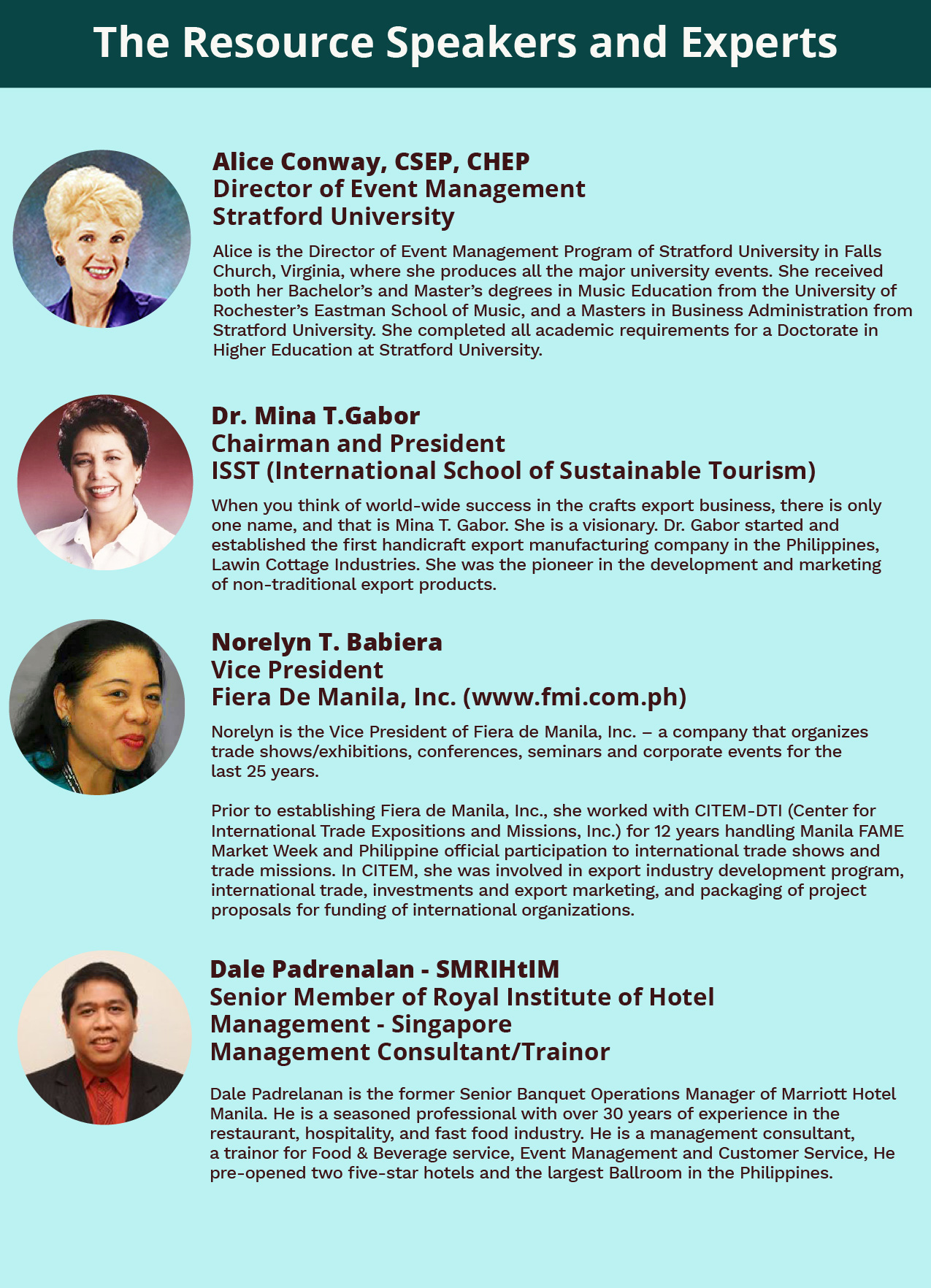 Registration Fee. Buy Now!
PHP 5,999 + VAT

Register Today!

https://fmi.com.ph/vid-on-demand/EM

For inquiries:

Call: +632-8896-0639, 0917-522-7346
Email: norelyn@fmi.com.ph
Visit Website: https://www.fmi.com.ph

Reviews – What They Say About the Program

1. 'Well-organized and Speedy Registration'.
– Gail Villanueva, Accenture PH

2. 'Very informative'.
– Bianca Dalumpines, Hinge Inquirer

3. 'Good content & Resource Speakers'
– Iana Celest Bernardez, Logika Concepts

4. 'Food was delicious. I have learned a lot for the last 3 days …'
– Mark Ortinero, Rustan Coffee Corporation

5. 'Two thumbs up!'
– Kenneth Montegrande, Streetwise Events Management and PR

Stay updated on all our learning events!
Follow the Fiera de Manila, Inc.
Facebook Page: https://www.facebook.com/FieradeManila