via vid-on-demand
Learn More:
https://fmi.com.ph/vid-on-demand/SMV
Introduction
We are now eights months in the pandemic and there seems to be a continuing uncertainty looming for 2021
in terms of economic and business recovery. Many companies are starting their 
strategic
 plans for 2021 including budget deliberations being undertaken by government at this time.
What lessons can we learn from the crisis experience
in 2020 so we can map out strategies that easily adapt to the New Normal realities for next year? How can the business stay afloat, and sustain growth for 2020 to avoid closure of its operations?
The company's road map in the short-to-medium term is imperative to set and identify its 
strategic
 directions, targets, programs, resources and timelines.
This webinar will discuss 
strategic
management
 in the 
world
 of uncertainties - the 
VUCA
world
.  This will guide business leaders, owners, entrepreneurs, and senior-level executives in planning and navigating uncertainties in the business using 
management
 tools. It is future-proofing company's strategies and initiatives in core areas which are essential to business success.
Listen and learn from seasoned business leaders and 
management
 experts who will share knowledge and insights on 
strategic
management
 and its tools, lean thinking and operational excellence, and transformational leadership.
Key Webinar Topics1. Strategic Planning: A New Outlook to Survival
- Path to transforming your organization
- 4-Steps approach to transforming our organization
- Current and Future Business Landscape: The 
VUCA
World
- Leadership and Organizational Agility
- Agile Leadership and 
Management
 3.0
2. Tools for Effective Strategic Management
in the VUCA World


- Discussion on Brainstorming, Roadmapping
Scenarios, Relevance Trees, Modelling,
Stakeholder Mapping and Backlog
3. Making Business Processes Lean

- Discussion on Lean Thinking Framework
- The Eight Wastes
4. Effective Leadership Strategies in a VUCA World
- Discover key leadership styles you can take to add value to your business.
- Understand how to analyze 
VUCA
 situations as they affect plans
- Developing 
VUCA
 leadership characteristics
- How to apply leadership styles to address 
VUCA
Who Should Attend
CEOs, Presidents, Managing Directors, General Managers, Business Owners, Middle to Senior  Level Managers, Process Owners/Analysts, 
Strategic
 Planners, Corporate Planning Executives, Project Managers, Customer Experience (CX) Officers, Innovation Champions, Team Leaders, IT Managers, Growth Officers, Department Heads, and those involved in continuous improvement and operational excellence programs in their organizations.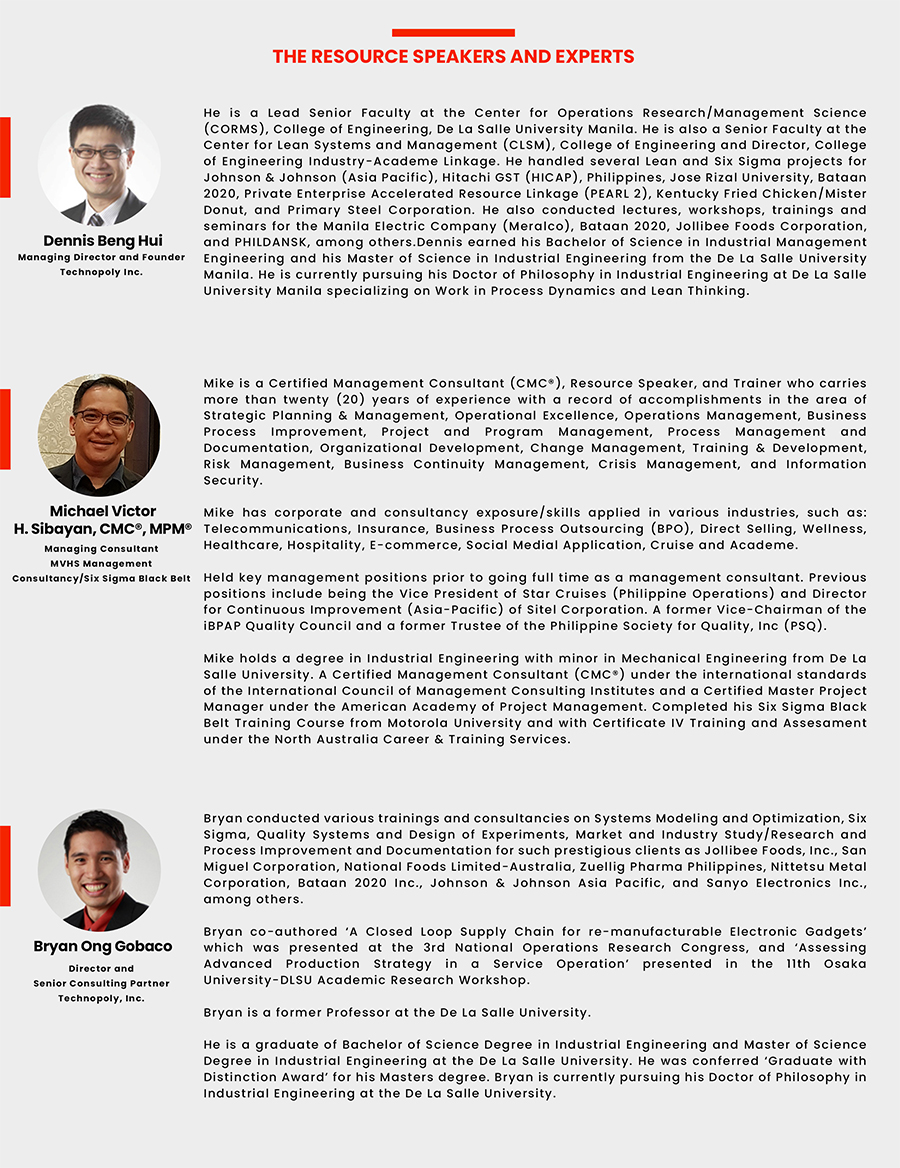 Registration Fee. Buy Now!
PHP 3,999 + VAT 
For inquires: 

Call: +632-8896-0639, 0917-522-7346
Email: 
norelyn@fmi.com.ph, www.fmi.com.ph
Stay updated on all our learning events!
Follow the Fiera de Manila, Inc.
Facebook Page:
https://www.facebook.com/fierademanila