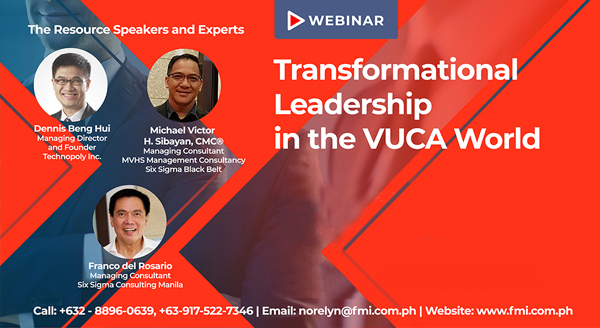 Transformational Leadership in the VUCA World

Learn More: https://fmi.com.ph/vid-on= demand/TL

Introduction

This pandemic has shown the need for business organizations to become pro-active, resilient and agile from branding to people policies. What lessons can we learn from this crisis experience so we can easily adapt to the New Normal, stay afloat, and sustain business growth?

How businesses can leverage on process excellence initiatives and perspectives to survive this crisis?

To navigate current market shifts and changing customer preferences, businesses should take look at process improvement, leadership capabilities, management styles, skill set, employee engagement, and focus more on giving value to customers within limited resources.

Where is your company at this time of crisis and pivotal transformation?

Transformational leadership is rooted in process excellence and improvement as a strategy to change management and business transformation.

This webinar will discuss transformational leadership to guide businesses in adapting to changes and shifts in the market, come-up with value propositions that result to business sustainability, relevance and growth.

This exciting leadership webinar puts your professional development at the forefront with future-proofing strategies and techniques in core areas, which are absolutely essential to business success.

Listen to seasoned business leaders and management experts on transformational leadership to engage people, invigorate culture and align people with purpose. Meet these Experts to discuss tactics and strategies to accelerate revenue growth and profitability.

Key Webinar Topics

1. Planning Company's Transformation Initiatives from Strategy to Execution: A Practical Approach

- Path to transforming your organization
- 4-Steps approach to transforming our organization
- Current and Future Business Landscape: The VUCA World
- Leadership and Organizational Agility
- Prosci Project Change Triangle
- Agile Leadership and Management 3.0

2. Effective Leadership Strategies in a VUCA World

- Discover key leadership styles you can take to add value to your business.
- Understand how to analyze VUCA situations as they affect plans
- Developing VUCA leadership characteristics
- Understand how to apply the leadership styles to address VUCA

3. Effective Employee Engagement Strategies

- Bringing out the best in the Team of millennials and Gen Zs to achieve peak performance
- Effective Engagement Strategies
- Discipline and habit formation strategies of successful people
(how do you develop good habits, can you really form habits?)
- How successful people do more with less?
- Mindfulness at work

4. Change Management

- The Future of Work and Business
- Creating Transformational Leaders
- The Role of Transformational Leader
- The Better New Normal World

Who Should Attend

CEOs, Presidents, Managing Directors, General Managers, Business Owners, Middle to Senior  Level Managers, Process Owners/Analysts, Strategic Planners, Corporate Planning Executives, Project Managers, Customer Experience (CX) Officers, Innovation Champions, Team Leaders, IT Managers, Growth Officers, Department Heads, and those involved in continuous improvement and operational excellence programs in their organizations.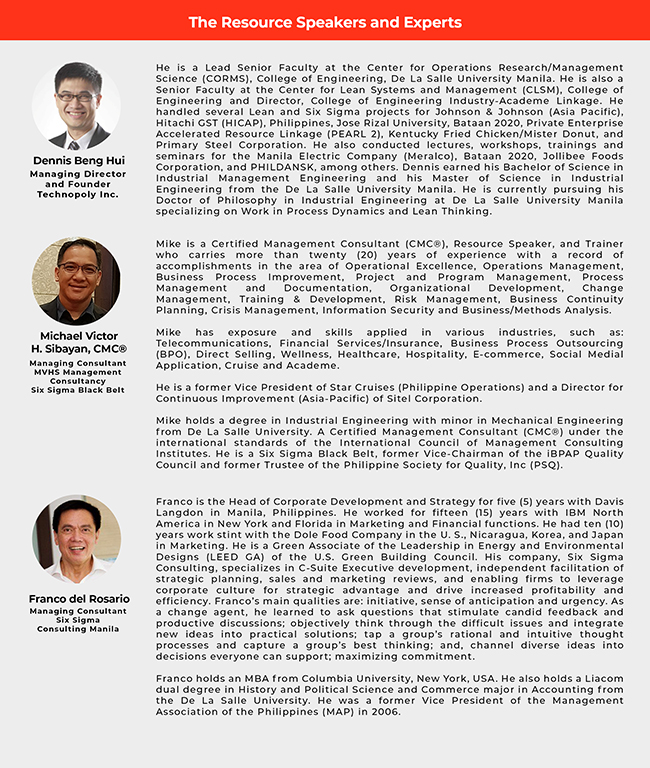 Registration Fee. Buy Now!
PHP 3,999 + VAT
 
For inquiries:

Call: +632-8896-0639, 0917-522-7346
Email: norelyn@fmi.com.ph